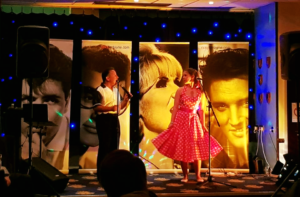 ….NEWS….NEWS….NEWS…….
*
Coming Soon… 'Ricky Fontayne and The Ace Tones'
*
Book now for 'Mercure Great Danes Hotel' in Maidstone, Kent – 'Dreamboats and Petticoats Christmas Show'
A fantastic 50's and 60's Music Show with 3 course Christmas menu on Sunday 4th December 2022 sit down at 1pm Tickets only £30 each!!
*
Or Book Quick Online At: 
*
GIG NEWS…NEWS…   Last gig being performed for Mercure Great Danes Hotel Maidstone Kent on Sunday 4th December 2022.  Ricky will be doing some live shows next year with his new band 'The Ace Tones' look out for details!!
WANT MORE NEWS…… Questions? regarding our shows? want to know more? Venue Details etc?   Drop us a message via the contact page
Hertfordshire. . . St.Albans . . . next gig at Hatfield Road Club, St.Albans is Saturday 21st January 2023
Dreamboats and Petticoats NEWS…NEWS…  Next gig  Sunday 4th December @ Mercure Great Danes Hotel in Maidstone Kent from 1pm
ESSEX NEWS… ….next Essex gig is at The Bardswell Club, Brentwood , Essex on Saturday 4th February
SURREY NEWS….  Next Surrey gig is Sunday 17th December @ Bagster House London from 8.30pm

KENT NEWS…………Next gigs in Kent are Sat 10th December @ Aylesham Bowls Club and Sunday11th Decemeber @ The Mill Inn, Deal from 3pm
| Gig | Date | Venue |
| --- | --- | --- |
| Dreamboats and Petticoats Christmas Show + Christmas Meal only £30 | 04/12/2022 at 01:00 | Mercure Great Danes Hotel, Maidstone - includes Christmas 3 course lunch £30 |
| Ricky Fontayne Live | 10/12/2022 at 20:30 | Aylesham Bowls Club, Kent |
| Ricky Fontayne Live | 11/12/2022 at 15:00 | The Mill Inn, Deal, Kent - from 3pm + Big Xmas Raffle |
| Ricky Fontayne Live | 16/12/2022 at 14:00 | Snodland, Kent |
| Ricky Fontayne Live | 17/12/2022 at 20:30 | Crayford Social Club, Dartford, Kent |
| Ricky Fontayne Live | 18/12/2022 at 18:00 | Bagster House, Shepperton, London |
| Ricky Fontayne Live | 23/12/2022 at 20:15 | Maidstone Working Mens Club, Kent |
| New Years Eve with Dreamboats and Petticoats Music Show | 31/12/2022 at 20:30 | Sunray Club, Surrey |
| Ricky Fontayne Live | 07/01/2023 at 20:30 | To Be Confirmed |
| Ricky Fontayne Live | 14/01/2023 at 20:30 | The Uckfield Club, East Sussex |
| Ricky Fontayne Live | 20/01/2023 at 20:30 | San Clu Bar & Restaurant, Ramgate Kent |
| Ricky Fontayne Live | 21/01/2023 at 20:30 | Hatfield Road Social Club, St.Albans, Herts |
| Dreamboats and Petticoats Music Show | 27/01/2023 at 20:30 | Smugglers Lounge Bar & Restaurant, Birchington, Kent |
| Dreamboats and Petticoats Music Show | 28/01/2023 at 20:30 | Rivets Sports and Social Club, Aylesbury, Bucks |
| Dreamboats and Petticoats Music Show | 04/02/2023 at 20:30 | The Bardswell Club, Brentwood, Essex |
| Ricky Fontayne Live | 05/02/2023 at 18:00 | Bagster House, Shepperton, London |
| Ricky Fontayne Live | 10/02/2023 at 20:30 | Hockley Royal British Legion, Hockley, Essex |
| Dreamboats and Petticoats Music Show | 11/02/2023 at 20:30 | Lydd Memorial Club, Kent |
| Dreamboats and Petticoats Music Show | 18/02/2023 at 20:15 | Maidstone Working Mens Club, Kent - (Book your ticket early) |
| Ricky Fontayne Live | 19/02/2023 at 14:30 | Minster WMC, Sheppey, Kent |
| Ricky Fontayne Live | 24/02/2023 at 20:45 | Sandyacres Sports & Social Centre, Ashford, Kent |
| Ricky Fontayne Live | 25/02/2023 at 20:30 | Stone Street Club, Maidstone, Kent |
| Ricky Fontayne Live | 04/03/2023 at 20:30 | The Ecko Social Club, Southend-on-Sea, Essex - Invite Only |
| Ricky Fontayne Live | 10/03/2023 at 14:00 | Hamstreet, Kent - (invite only - email for details) |
| Ricky Fontayne Live | 11/03/2023 at 20:15 | Rayleigh Royal British Legion, Essex |
| Ricky Fontayne Live | 18/03/2023 at 20:30 | Tovil WMC, Maidstone, Kent |
| Ricky Fontayne Live | 25/03/2023 at 20:15 | Great Wakering Royal British Legion Club, Essex |
| Ricky Fontayne Live | 01/04/2023 at 20:30 | North Enfield Conservative Club, London |
 ….Gig Guide….Gig Guide….please check for last minute cancellations/news on our Facebook pages