"…Ricky's Dreamboats and Petticoats Show is a Rock 'n' Roll Sensation"
 "…The UK's Top 50's and 60's Music Show"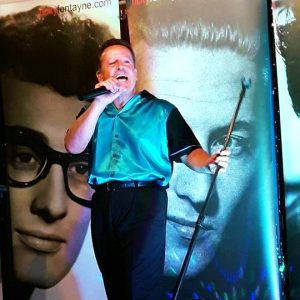 Singer Ricky Fontayne has been in the music business for over 30 years and during that time his outstanding versatile vocal performance has earned him the title of 'Mr Rock'n'Roll'.
During the 80's and 90's Ricky was lead singer with a top Midlands based Rock'n'Roll band and toured the rock and roll circuit up and down the country until 1998 when they disbanded.
After a long break Ricky decided to return to the music scene and go it alone. In 2006 he re-launched his music career as a solo artiste, since then Ricky hasn't looked back. His solo career has 'snowballed' to the extent that he is always on tour and playing live somewhere in the UK entertaining audiences, young and old alike.
Nowadays Ricky performs all the great rock'n'roll sing along chart hits of the 50's and early 60's and will make you 'rock till you drop' with a magical blend of songs made famous by Buddy Holly, Elvis, Eddie Cochran, Cliff Richard, The Everly Brothers, Chuck Berry, Bill Haley & His Comets, Paul Anka, Dion & The Belmonts, Billy Fury, Tommy Steele, Ricky Nelson, Sam Cooke, Chubby Checker, Bobby Vee, Del Shannon, Bobby Darin, Little Richard and Jerry Lee Lewis to name but a few.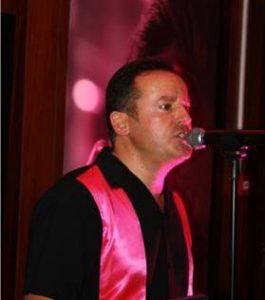 Over the years Ricky has performed with many well known artists including The Searchers, Hermans Hermits, Alvin Stardust, Joe Brown, The Union Gap and Marty Wilde and has been booked by many clients including BBC, KM Radio & Media News Group, Grosvenor Casinos, Mercure and Thistle Hotel Groups  F1 Silverstone British Grand Prix, P & O Ferries, Premier Travel Inn Group, Shepherd Neame, The Caravan & Motorhome Club, The Royal British Legion and other British Forces based organisations.
With the introduction of his new 'Dreamboats and Petticoats Music Show' based around music featured on the multi million selling CD collection and Smash Hit West End Musical,  Ricky's reputation and popularity goes from strength to strength. He is now regarded as one of the best 50's and 60's tribute acts in the UK. Ricky hopes to continue performing his blend of rock'n'roll for many years to come, keeping rock'n'roll music alive for all ages to enjoy and looks forward to seeing you at one of his performances. Click on the gig guide to find a show near you or send us a message!!
Ricky Fontayne and Dreamboats and Petticoats Music Show are available for private, social and corporate events throughout the UK. Please click on the Contact page for details and booking information.